Paris Saint-Germain are reportedly eyeing Barcelona prodigy Ansu Fati as a potential long-term replacement for contract rebel Kylian Mbappe.
Ansu Fati is the latest Barcelona player to have popped up on the radar of Paris Saint-Germain.
The French giants are eyeing the 18-year-old, who is in the final year of his contract with the Blaugrana, as a potential long-term replacement for Kylian Mbappe.
Ansu Fati is widely regarded as one of the most promising young footballers on the planet, having broken into the first-team setup at Barcelona before he even turned 17.
Since then, his role in the side has grown enormously, although the teenage prodigy was blighted by a long-term knee injury in the past year before he made an emphatic return against Levante .
To date, the 18-year-old has 44 appearances scoring 14 goal and 5 assist for Barcelona.
And following the departure of Lionel Messi to PSG, Fati is regarded as the next big hope for Barcelona, having also inherited the great man's no. 10 jersey.
However, Barcelona are in a precarious position over the future of the player, who has entered the final year of his contract at Camp Nou.
This got the alarm bells ringing at the clubs around Europe, with the latest prospective suitors being PSG.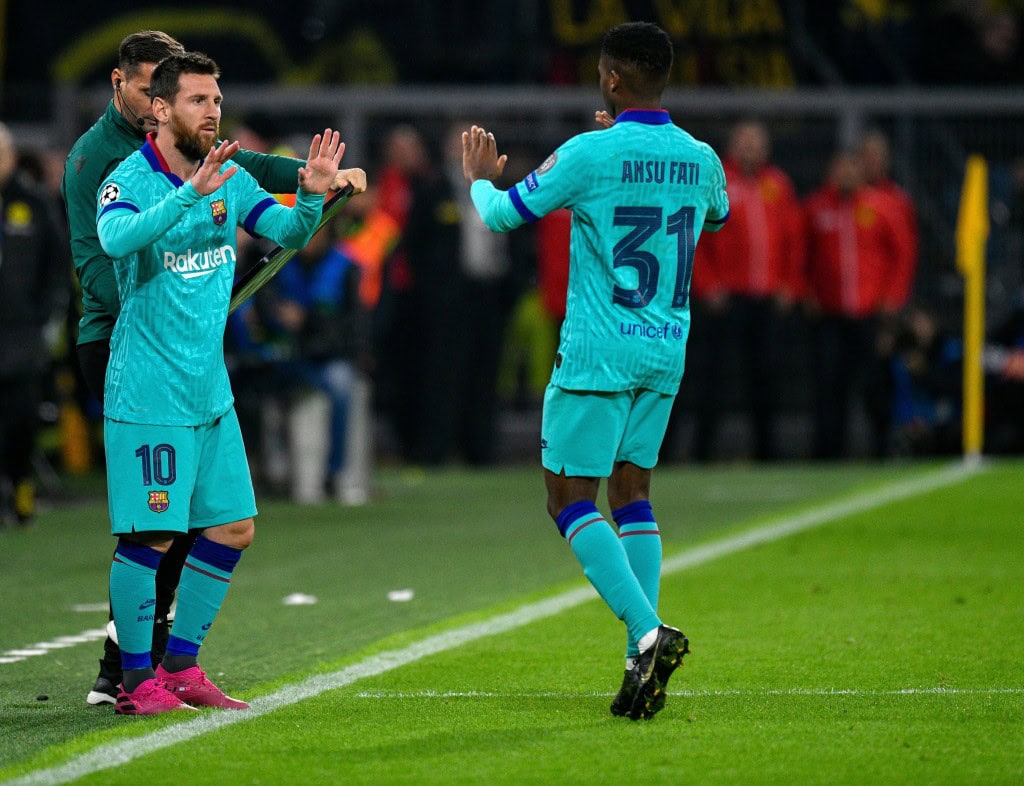 Is Ansu Fati set to reunite with Lionel Messi at PSG? (Photo by Sascha Schuermann/AFP/Getty Images)
PSG have now become notorious for prising away a couple of priceless players away from Barcelona following the arrival of Messi.
However, Les Parisiens are themselves in a spot of bother over the future of a key player, with Kylian Mbappe in the final year of his deal and expected to run out the contract before departing as a free agent next summer.
Coincidentally, Mbappe has been linked with Barcelona, although his dream destination is believed to be Real Madrid, who had been keen on signing him this past summer as well.
With Mbappe likely to call it quits at Parc des Princes, PSG would need to sign a long-term replacement, which brings Fati into the picture.
However, there have been suggestions that Fati is content at Barcelona and is unlikely to move away from the club anytime soon.
So, with that in mind, a Bosman move for the 18-year-old prodigy could well be out of question, although it remains to be seen if PSG can somehow turn his head or set their sights elsewhere instead