Taking to Instagram, Funke Akindele posted this video of actress Shaffy Bello looking gorgeous in a purple gown and purple head band.
Captioning the picture, Funke wrote:
Hmmmm borrow pose!!! Aunty Shaffy @iamshaffybello s pls return Aunty Joke Silva's dress @ajokesilva Thank you #chiefdaddy2 #ebonylifefilms #filming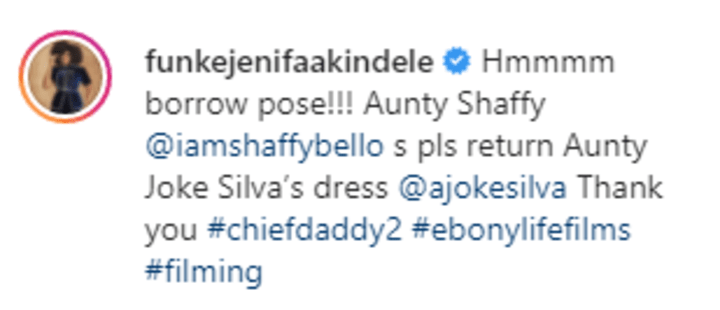 Upon seeing the comment, Shaffy Bello was quick to respond writing back to Funke saying:
Haaaaaaaa! Midarannnnn! FUNKEEEEEEE! AGBAYA !!!!! YOU AND THAT @k8henshaw !!!!!

I WILL GET MY REVENGE!!!! @deyemitheactor come and see sometin oooo! I need your skills pls. ATTENTION!!!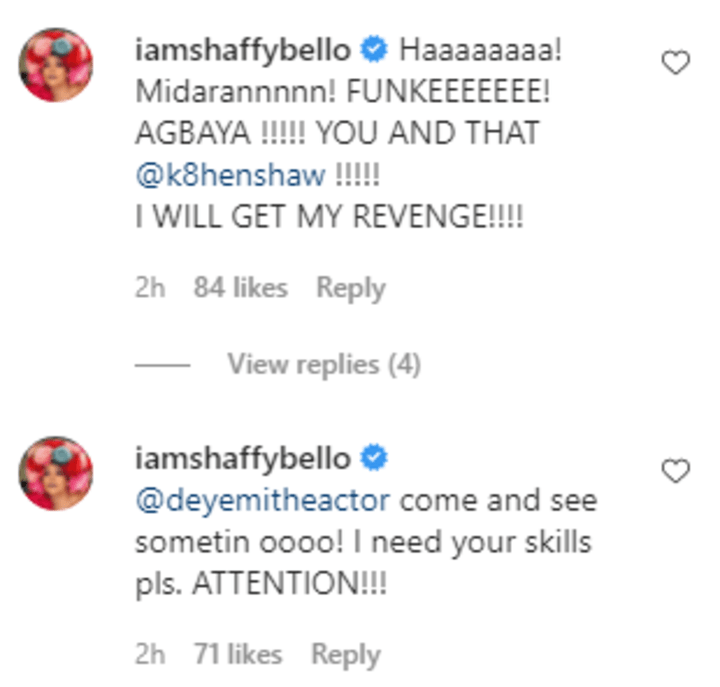 Remember that in the movie, Kate Henshaw and Funke Akindele are the ones that ganged up against Shaffy Bello's character in the movie hence why Shaffy tagged Kate. The assumption is that in this movie, actor Deyemi will be playing either the son or close character to Shaffy's character hence why he was tagged by Shaffy.
The fun didn't end. Kate Henshaw also put her mouth into the conversation writing in response to Funke's initial caption:
Ahhh my sis!!! This life no jus balance….

And then Ini Edo who is also in the movie wrote saying:
But why washing our family secrets in the open??? Chiefdaddy air flow has been restricted in the grave..smh

Finally, the movie's executive producer Mo Abudu happy to see what Funke wrote as well as the publicity that the caption will probably do for the movie wrote saying:
"Beautiful ❤️❤️❤️, all my love to the amazing #chiefdaddymovie cast and crew ❤️❤️❤️"

Chief Daddy is expected to be released later this year around the Christmas period. There is already talk that the new movie will be getting new actors like Deyemi and Broda Shaggi joining the already remarkable cast that did the first one. Either way, I can't wait to see it and it's fun to see all these actors having fun not only on the set but also on social media. I just hope the movie is as fun as this exchange was.